Smart Lighting Designed For The Way You Live
Lighting is changing in a big way. No longer just a utility, lighting sets the scene for movie night, delivers the ambiance for your dinner party, and adds cheer to your holiday season. With a Lutron smart lighting system installed in your home, you're in complete control.
---
Hands Free Smart Lighting
With no touch at all, your home knows when you're arriving in the evening and sets your lights to lead the way. You'll never come home to a dark house again. Motion sensors also provide hands-free illumination to the restroom or kitchen in the middle of the night. Additionally, they'll trigger lights to turn off when no one is occupying a room, closet, or pantry area.
---
---
---
Set The Scene From The App
The intuitive app gives you the ability to control more than just the lights—including music, movies, locks, thermostats, even your garage door—with a simple press. Turn on or off multiple rooms, or your entire house, with one tap as you're headed off to work or turning in for the night. There's no longer a need to travel from room-to-room switching off individual lights and televisions.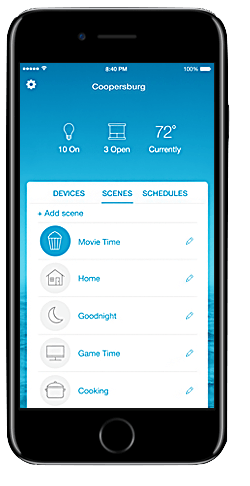 ---
Unmatched Innovation & Elegance
Our motorized shade solutions deliver a sophisticated automated shade that offers both ease of use and dependability. Choose from shades in a wide range of colors and styles, with a bevy of options. All automated roller shades can be controlled via remote, smart phone or tablet
---
---